What does a Hospitalist do?
Would you make a good Hospitalist? Take our career test to find out how you match with this and over 800 other careers.
Take Free Career Test
What is a Hospitalist?
A Hospitalist is a specialized type of Doctor. Also known as: Hospital Physician.
A hospitalist is a physician whose focus is the general medical care of hospitalized patients. Their duties include patient care, teaching, research, and leadership related to hospital medicine. Hospitalists can come from any medical background. Most have completed a residency in internal medicine, family medicine, or pediatrics. However, there are now a growing number of "specialty" hospitalists practicing psychiatry, obstetrics, orthopedics, and general surgery all within the realms of the hospital.
Unlike primary care doctors, hospitalists generally have short-term relationships with their patients. Despite this, they benefit from the satisfaction of caring for people during some of the most difficult times of their lives. Hospitalist care is especially important for patients who don't have a family doctor to admit them or to visit them while in the hospital.
What does a Hospitalist do?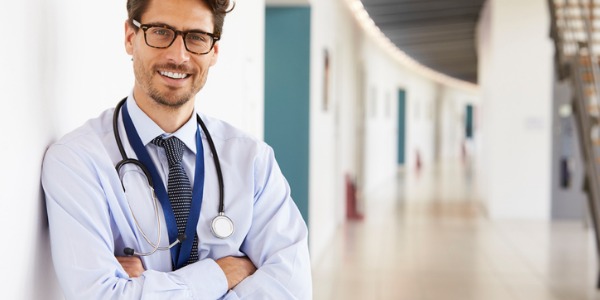 A typical physician will divide their time between the hospital and the office. Hospitalists, however, only specialize in the care of hospitalized patients, which has certain advantages. These physicians have more experience in caring for complicated hospitalized patients on a daily basis, and are more available during the day to meet with family members. They are also able to follow-up on tests, answer any questions the nurses may have, and deal with any problems that may arise. If need be, a hospitalist may see patients more than once a day to make sure that care is going according to plan, and to explain test results to patients and family members.
Hospitalists also coordinate the care of patients in the hospital by organizing the communication between different doctors caring for a patient, and serving as the point of contact for other doctors and nurses for questions, updates, and plan of care. They are also the main contact for family members to be updated on their loved ones.
Because hospitalists work on-site, they are able to look at test results and promptly order any necessary follow-up tests. Since their office is the hospital, they are more familiar with the hospital's policies and activities, and are involved in various hospital committees. They work behind the scenes to assist in improving efficiency, patient safety, patient care, medical errors, infection control, and fostering teamwork and communication between physicians and staff.
Find your perfect career
Would you make a good hospitalist? Sokanu's free assessment reveals how compatible you are with a career across 5 dimensions!
Take the free career test
What is the workplace of a Hospitalist like?
Hospitalists are typically employed by individual hospitals, larger medical networks, or multi-specialty group practices that provide staffing to their hospital clients. They may work a portion of their shifts in nursing homes and rehabilitation hospitals, which allows them to follow their patients from short to longer-term care. This provides patients with a smoother transition between settings.
Some hospitalists may choose to work seven 12-hour shifts in a row followed by a full week off, while others work Monday through Friday every week. Still others will work several 24-hours shifts each week. While this career involves long hours, scheduling flexibility is a perk for hospitalists. Within a group of hospitalists, they will be able to cover one another's patients when time off is needed. That being said, hospitalists should still expect to work their share of weekends and holidays.
Jobs
| Title | Company | Location | Info |
| --- | --- | --- | --- |
Further Reading
Get to Know a Day in the Life of a Hospitalist www.usnews.com

Hospitalists are a branch of hospital medicine, which was organized in 1998 with the formation of the National Association of Inpatient Physicians, which in 2003 grew into the Society of Hospital Medicine. The society estimates that nearly 31,000 physicians practice hospital medicine, making it a rapidly growing specialty.

5 Questions About Working as a Hospitalist www.pennlive.com

While hospitalists are quickly becoming recognized as specialists, many people still consider us "regular" doctors. But with health care reforms on the horizon, hospitalists will be the primary and most important caregivers in the hospital setting.

Interview with a Hospitalist www.jobshadow.com

Hospital medicine, and it's a new division of internal medicine which focuses on patients admitted to the hospital only. The term hospitalist is now often used to describe this career.
Find your perfect career
Would you make a good hospitalist? Sokanu's free assessment reveals how compatible you are with a career across 5 dimensions!
Take the free career test
Find your perfect career
Would you make a good hospitalist? Sokanu's free assessment reveals how compatible you are with a career across 5 dimensions!
Take the Free Career Test