What does a Midwife do?
Would you make a good Midwife? Take our career test to find out how you match with this and over 800 other careers.
Take Free Career Test
What is a Midwife?
Also known as: Certified Nurse-Midwife, Certified Midwife, Certified Professional Midwife.
A midwife is a healthcare provider who gives care to women during the childbirth process. Midwifery is an ancient and respected career that dates back to biblical times. In ancient times, midwifery was thought of as one of the few career options for women, and the practitioners of this art were venerated by many different societies. In many ancient cultures it was assumed that these female medical practitioners had a spiritual connection that gave them special powers.
What does a Midwife do?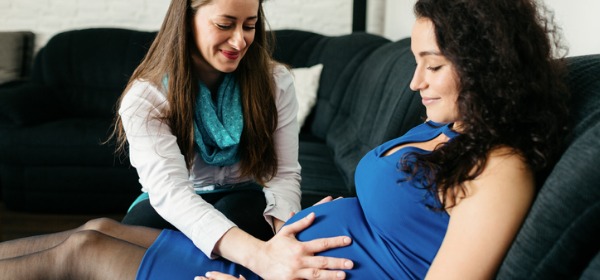 Today midwives offer assistance to their clients all over the world, during the entire process of giving birth. Many midwives continue to work with and educate new mothers during the postpartum period. Most midwives specialize in low-risk pregnancies, especially for those prospective mothers who choose home childbirth. If a pregnancy carries complications or is considered high-risk, the practitioner will refer the woman to an obstetrician. Many prospective mothers choose to have a midwife attend their birth because their services are often less expensive, yet more personal, than traditional medical care. Other women who are expecting a child choose midwifery as a calming and spiritual alternative to modern western methods of childbirth.
As a healthcare provider, the midwife attends every aspect of a woman's pregnancy including prenatal care, labor, childbirth and postpartum recovery. She will generally meet with a woman during the early stages of her pregnancy to answer any questions about childbirth and address any concerns the mother may have.
During labor, the midwife will assist the mother with finding a comfortable birthing position and may encourage such activities as showering, rocking, leaning on birthing balls, and walking around, to make the woman more comfortable. Midwives are trained to speak to the woman in labor and to understand their needs and the needs of their family members who are present.
There are some midwives who are certified as nurse-midwives, and can offer certain medical interventions. Some certified nurse-midwives are trained in electronic fetal monitoring, and can administer labor-inducing drugs and pain medications like an epidural. Certified nurse-midwives are also often trained to give episiotomies in birthing situations that call for them. It is essential for the pregnant mother to understand in advance what kind of training her midwife has, and what type of medical services she (or he) can perform.
Find your perfect career
Would you make a good midwife? Sokanu's free assessment reveals how compatible you are with a career across 5 dimensions!
Take the free career test
What is the workplace of a Midwife like?
Many midwives report that one of the most satisfying parts of their job is being able to assist people in giving birth at home. Because midwives often travel from home to home to help their clients, the workplace can be a transient one.
The workplace for a midwife is generally the homes of clients, but some practitioners also assist doctors with live births in a hospital setting. When working in a hospital, midwives work under a physician's orders and often collaborate with a medical director in order to provide care to patients.
Jobs
| Title | Company | Location | Info |
| --- | --- | --- | --- |
Further Reading
The Enduring Qualities in Midwifery www.midwiferytoday.com

What about midwifery has endured, and what must endure if we are to continue to provide what women want when they seek midwifery care?

Midwives kidshealth.org

In the United States, women's choices once were limited to an obstetrician or a knowledgeable family doctor. But now midwives are another alternative for women with low-risk, uncomplicated pregnancies.

Meet Canada's First Male Midwife www.macleans.ca

At 25, Kryzanauskas has completed a bachelor of sciences in midwifery from McMaster University to become the only registered male midwife in Canada.
Collections With This Career
INFP personalities are true idealists, possessing a rosy outlook and always searching for ways to make things better. Read More

ESFJs project warmth through a genuine interest in the well-being of others. They have the ability to bring out the best in people and want to understand other points of view. Read More

These careers require a high level of Social Orientation. Read More

A collection of careers that require a high level of integrity in order to be successful at. Read More

These careers require a high level of Dependability. Read More
Find your perfect career
Would you make a good midwife? Sokanu's free assessment reveals how compatible you are with a career across 5 dimensions!
Take the free career test
Close ×
Have you checked your email?
We emailed you a login link when you signed up, so you likely don't have or need a password. Just click the link to log back in at any time.
If you're still having trouble logging in, try the link below or contact our support team.
Reset Password