What does a Neurosurgeon do?
Would you make a good Neurosurgeon? Take our career test to find out how you match with this and over 800 other careers.
Take Free Career Test
What is a Neurosurgeon?
A Neurosurgeon is a specialized type of Doctor. "A Brain Surgeon" is considered to be the same as "a Neurosurgeon" on sokanu. View original.
A neurosurgeon is a physician who specializes in the diagnosis and surgical treatment of disorders of the central and peripheral nervous system. This includes congenital anomalies, trauma, tumours, vascular disorders, infections of the brain or spine, stroke, or degenerative diseases of the spine. Neurosurgeons undertake some of the most daunting, risky, and critical operations imaginable on our brains. This career is physically and intellectually demanding and requires excellent hand dexterity and hand-eye coordination.
What does a Neurosurgeon do?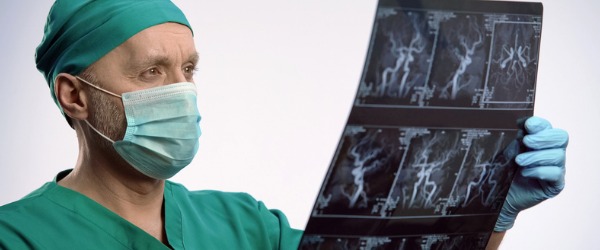 The nervous system is a complex network of thread-like nerves and cells that carry messages to and from the brain and spinal cord to various parts of the body including the sensory organs, arms, hands, legs, and feet.
Neurosurgery (or neurological surgery) is the medical specialty that concentrates on the diagnosis and treatment of conditions, illnesses and injuries involving the nervous system and its support structures. This includes conditions involving the brain, the spinal cord, the actual nerves, the skull, the bones of the spine, spinal disks, as well as the blood vessels, ligaments and the protective coverings that offer support to the nervous tissues.
Neurosurgeons, neurologists, and other medical professionals work together to provide comprehensive inpatient care for patients with complex neurological disorders. Neurologists often work closely with neurosurgeons, but do not perform surgery.
Intervention by a neurosurgeon can be surgical but is most often non-surgical and is determined by the condition or injury as well as the general health of the person. Such problems may be the result of abnormal development from birth (congenital), from aging or "wear and tear" (degenerative), traumatic from a definite injury, infectious, neoplastic from a tumour or it may be related to other medical conditions or disease.
Neurosurgeons treat issues such as:
Tumours involving the brain, spinal cord, nerves, skull or the spine. These may be a primary growth from the local tissues themselves or a metastatic spread from a cancer in another part of the body.
Spinal problems resulting in neck or back pain, the pinching of nerves with resultant pain, numbness or weakness in the arms or legs. These conditions can result from ruptured or bulging disks, excessive overgrowth of arthritic bone, slippage of the vertebra, infections or fractures.
Peripheral nerve injuries or compression resulting in pain, numbness, weakness and wasting of the muscles in the face, arm, hand or leg. Conditions such as Carpal Tunnel syndrome are common when the nerve crossing the wrist is compressed or entrapped.
Neurovascular disorders such as strokes, brain hemorrhages, aneurysms, vascular malformations, traumatic or non-traumatic blood clots affecting the brain or spinal cord and carotid artery disease.
Brain disorders such as Parkinson's disease, epilepsy, hydrocephalus or malformations involving the brain from birth.
Infections involving the brain and spinal cord, the fluid surrounding these structures or the spinal vertebra and disks.
Traumatic injuries to the brain, spinal cord, bones of the spine, nerves and skull.
Find your perfect career
Would you make a good neurosurgeon? Sokanu's free assessment reveals how compatible you are with a career across 5 dimensions!
Take the free career test
What is the workplace of a Neurosurgeon like?
Neurosurgeons often perform multiple procedures in a single day, ranging from simple outpatient treatments to complex brain surgeries. The day of a neurosurgeon starts early, frequently between 5:30 and 7 am. Few neurosurgeons work less than 50-60 hours a week (80+ is not at all unusual). Because of the intense and demanding nature of the work, many neurosurgeons describe this career as a calling rather than just a way to make a living.
Jobs
| Title | Company | Location | Info |
| --- | --- | --- | --- |
Further Reading
Emotional Extremes: a Day in the Life of a Neurosurgeon www.physics.ohio-state.edu

Daniel L. Barrow sits on a chair that is wrapped in blue, sterilized plastic and rests his elbows on the armrests to steady his hands. He stares straight ahead into the eyepiece of a microscope, watching his surgical instruments move in a valley of brain tissue below the lens. The brain he is working on, with almost reverent care, belongs to an anesthetized 50- year-old woman, whose head is clamped to the operating table...

Day-to-Day Responsibilities of a Neurosurgeon work.chron.com

The daily life of a neurosurgeon is extremely complex and demanding, with rapidly changing tasks and responsibilities.
Find your perfect career
Would you make a good neurosurgeon? Sokanu's free assessment reveals how compatible you are with a career across 5 dimensions!
Take the free career test
Find your perfect career
Would you make a good neurosurgeon? Sokanu's free assessment reveals how compatible you are with a career across 5 dimensions!
Take the Free Career Test