What does a Pathologist do?
Would you make a good Pathologist? Take our career test to find out how you match with this and over 800 other careers.
Take Free Career Test
What is a Pathologist?
A Pathologist is a specialized type of Doctor. "A Molecular Pathologist" is considered to be the same as "a Pathologist" on sokanu. View original.
A pathologist is a physician in the medical field who studies the causes, nature, and effects of disease. The field of pathology is broad with concentrations on changes in cells, tissues, and organs that are the result of a disease.
What does a Pathologist do?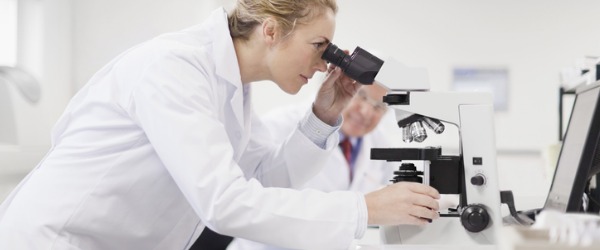 Pathologists typically work in one of three main areas of discipline: as teachers, investigators, or diagnosticians. The ability to integrate clinical data with biochemical, molecular, and physiological laboratory studies is fundamental to the work performed on a daily basis.
Individuals who work in the academic field impart their knowledge to medical students, medical colleagues, and other trainees at various levels. Investigators in the field of pathology use laboratory science for disease models, clinical studies, and other experimental programs to further advance the field knowledge, understanding, and treatment options for various diseases. This information is used to both treat and diagnose patients more aggressively in the future. Professionals who work in clinical laboratories or medical settings practice as consulting physicians who develop and apply their knowledge of laboratory and tissue analysis in order to diagnose and treat disease in patients.
It's important to note that professionals who work in the medical industry may also work with patients in the postmortem phase. Research with these patients is used to study disease, or determine if a death was a homicide or from natural causes.
A Pathologist could:
Examine kidney tissues of a patient under a microscope to determine if the patient is in need of a transplant.
Perform an autopsy to decide if the person died of homicide or natural causes. This information could be used to help solve a crime.
Look over the blood test of a pregnant woman to determine if the child she is carrying will be born in good health
Types of Pathologists:
Anatomical Pathologist
Clinical Pathologist
Cytopathologist
Neuropathologist
Molecular Pathologist
Chemical Pathologist
Genetic Pathologist
Immunopathologist
Find your perfect career
Would you make a good pathologist? Sokanu's free assessment reveals how compatible you are with a career across 5 dimensions!
Take the free career test
What is the workplace of a Pathologist like?
Most professionals in the field can expect to spend a great deal of time planning their research projects, researching the findings of other scientists, and attending meetings with other physicians. They should have the ability to take in a lot of information at one time and the patience to complete sometimes lengthy research projects. They need to be accurate and precise workers, this is especially true for professionals that work to diagnose disease when their findings are a critical component to the care the patient will receive. They will most often work alone, but excellent communication skills are essential to give evidence of their findings in writing or orally.
Because the field of pathology is so broad, the work conditions will vary greatly. However, pathologists most often work in hospitals, offices, classrooms, and laboratories. The typical professional in the field can expect to work a 40-hour work week, but depending on the industry in which they are employed, a work week greater than 40 hours may be expected. Working hours are varied and are often on a rotating shift.
Oncologists and pathologists are physicians who are linked by cancer. Oncologists treat the disease. Pathologists diagnose it. The two specialties are connected, yet significantly different.
Pathologists are, in essence, the detectives of the medical field. They spend their days in the lab. They examine body fluids, cells, and tissues to help identify diseases. Although pathologists are instrumental in determining what may be physically wrong with someone, they have little, if any, direct contact with a patient. Oncologists, conversely, spend a great deal of time with patients. Both, however, may be involved in a patient's care. Pathologists also perform autopsies to figure out why someone died.
Oncologists are cancer specialists who may be medical, surgical, or radiation oncologists, and who may further specialize within the discipline. Pathologists diagnose all medical conditions and diseases, not just cancer. They may specialize in the diagnosis of pediatric or genetic disorders, skin diseases, diseases of the nervous system and skeletal muscles, diseases that affect blood cells; or in transfusion medicine or forensic pathology.
Also relevant for Oncologist
Jobs
| Title | Company | Location | Info |
| --- | --- | --- | --- |
Collections With This Career
These are the careers with the highest paying jobs for investigative people with bright minds. Read More

Discover careers for people who are interested in Life Science. Read More

These careers require a high level of Achievement/Effort. Read More

These careers require a high level of Independence. Read More

These careers require a high level of Analytical Thinking. Read More

These careers require a high level of Dependability. Read More

These careers require a high level of Attention to Detail. Read More

The most common careers people pursue after attaining a Chemistry degree. Read More
Find your perfect career
Would you make a good pathologist? Sokanu's free assessment reveals how compatible you are with a career across 5 dimensions!
Take the free career test
Close ×
Have you checked your email?
We emailed you a login link when you signed up, so you likely don't have or need a password. Just click the link to log back in at any time.
If you're still having trouble logging in, try the link below or contact our support team.
Reset Password