What does a Video Game Designer do?
Would you make a good Video Game Designer? Take our career test to find out how you match with this and over 800 other careers.
Take Free Career Test
What is a Video Game Designer?
"A Lead Game Designer" is considered to be the same as "a Video Game Designer" on sokanu. View original.
The gaming industry is at full swing; video games are enjoyed by people of all ages, allowing players to step into an alternate world and become superhuman soldiers, expert tennis players, and world saviors.
Video games are extremely complex, in storyline alone, and there are millions of lines of code that develop every aspect of the game. From maps to characters, these games fulfill a reaction for every possible action that a player may choose. These worlds are courtesy of video game designers, who are responsible for the content and environment of every video game.
What does a Video Game Designer do?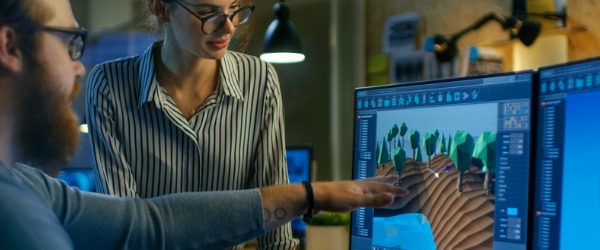 A video game begins with a concept. A proposal is drafted by a team of game designers, who address important details such as target audience, requirements, deadlines, and budgets. Video game designers make that concept of gameplay and layout come alive, often through experimentation with several themes and genres, as well as developments and improvements on existing games.
This can include:
Plots and storylines
Characters
Maps, scenarios, and difficulties
Methods for winning or losing the game
User interface creation
All of this is created through computer software in which the designer will input computer scripting, which is then processed by the software to generate commands, events, objects and characters that players interact with.
There are many types of game designers who focus on a particular aspect of gameplay. Most designers will spend at least some of their time as testers, where they can experiment with coding and watch others' mistakes firsthand. Lead designers are the coordinators of the team and are responsible for communication inside and outside of the design team, as well as making important decisions. A game mechanics designer works on the balance of the game and its rule system. Lastly, an environmental designer is responsible for creating the different scenarios and environments of the game.
A game will undergo millions of changes throughout its making, and game designers are required to constantly recheck and recode thousands of lines of code. A designer can also be called upon to develop a game to focus on a particular aspect, such as market, design, technology, or art.
Games that are market-driven are designed to make a profit, and therefore their progress is limited to consumer demand. Most games are developed in this manner. Games that are design-driven allow the designer to take full reign of the game and its aspects. Many games are not developed in this manner because of monetary restraints. Games that are technology-driven are created in order to highlight a technological achievement or to market gaming consoles and engines, such as high-quality graphic displays. Rarely, a game will be art-driven, where a game is focused on visual effects and impressive designs created by artists.
Find your perfect career
Would you make a good video game designer? Sokanu's free assessment reveals how compatible you are with a career across 5 dimensions!
Take the free career test
What is the workplace of a Video Game Designer like?
Game designers typically work for gaming companies such as Blizzard, Electronic Arts, Microsoft, Nintendo, Sony, etc. They typically work in an office or studio-like setting amongst other designers and programmers. This environment can get very stressful, especially when one is dealing with a looming deadline, or dealing with a server crash.
Jobs
| Title | Company | Location | Info |
| --- | --- | --- | --- |
Further Reading
On Being a Video Game Programmer – The Perks and Pitfalls indiegamereviewer.com

What is it like to work as a video game programmer? It is considered by many game-playing children to be a dream job. Is it actually as good as it sounds? It certainly is an interesting life. However, as with anything else on this planet, there are both positive and negative sides to working as a video game programmer.

A Day in the Life of a... Games Designer econsultancy.com

Pete Low is a Games Designer at Chunk, a digital content agency based in Glasgow. Here he explains what he does for a living, and why he loves his job after 17 years in the games industry.

Qualities of a Successful Game Designer www.ztgd.com

Breaking into the gaming industry requires many qualifications that developers insist on when hiring. The top qualities are a genuine interest in gaming, good problem solving, analytical skills and patience, ability to manage time well, work as a team member and company loyalty.
Collections With This Career
Computer programming is a highly transferable career skill. This is a diverse list of high paying jobs. Read More

Creative careers are hot in today's knowledge economy. This list of high paying jobs will get the juices flowing. Read More

Discover careers that are good for people who like Programming. Read More

Discover the highest paying jobs for people that have an artistic flair. Read More

Discover careers that are good for people who like Technology Design. Read More

A collection of careers that require innovation and creativity in order to be successful at. Read More
Find your perfect career
Would you make a good video game designer? Sokanu's free assessment reveals how compatible you are with a career across 5 dimensions!
Take the free career test
Close ×
Have you checked your email?
We emailed you a login link when you signed up, so you likely don't have or need a password. Just click the link to log back in at any time.
If you're still having trouble logging in, try the link below or contact our support team.
Reset Password