What does a Wellhead Pumper do?
Would you make a good Wellhead Pumper? Take our career test to find out how you match with this and over 800 other careers.
Take Free Career Test
What is a Wellhead Pumper?
Also known as: Well Tender, Well Head Pumper.
A wellhead pumper is someone who operates power pumps and other equipment so that gas or oil can flow from the oil well. This involves bringing an oil, gas, or mining product from a well up to the surface by means of pumps and compressors. Work is performed within a strong safety culture that follows detailed and exact safety regulations. Environmental rules also must be closely followed.
What does a Wellhead Pumper do?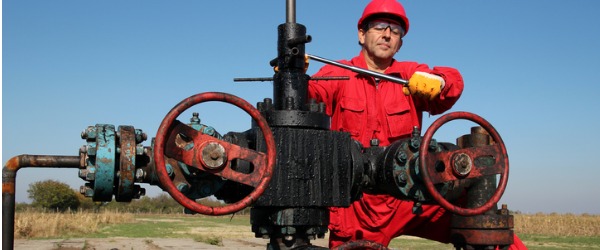 The wellhead pumper is responsible for all aspects of the pumping operations: assembling pumps, attaching hoses to wellheads, starting the compressor, operating the pumps and monitoring flow. The pumper starts the compressor engine and opens valves to return compressed gas to the bottom of the well. The pump depressurizes the pipe and forces oil to rise to the surface. The wellhead pumper then must monitor the flow as the product travels to make sure it is moving at the proper rate. Once the pump has brought the product to the surface, the pumper transfers it to storage tanks or trucks that move it offsite.
Monitoring is generally done by computer control panel, and the pumper must watch that the oil, or the material being extracted, is pumped at the correct pressure, rate, and density. He or she needs to operate the pumps, open valves and shut them off as required by production schedules, and redirect flow into storage tanks. Any blockages in the pipes must be quickly identified and repaired. Routine maintenance of equipment is part of the job, and meters and gauges also need to be maintained and repaired if necessary.
Depending on the product being extracted, the pumper may also be responsible for blending acids and chemicals and controlling equipment used to fracture gas and oil wells or rock formations. Sometimes they are responsible for driving trucks and other transport vehicles on the site.
The wellhead pumper may need to supervisor other workers on the job site; the team works together to keep production running smoothly, keeping the product flowing from the ground through the pipes and into storage facilities. The team assembles the rigs and tears equipment down, and starts and stops production following specific schedules. All the work is done in compliance with strict safety regulations. Paperwork needs to be completed, such as daily reports and communication with supervisors.
An essential part of the job role is emergency preparedness. Should an oil spill occur, or a wellhead blow out, environmental damage could be considerable. The wellhead pumper needs to be familiar with environmental regulations and follow the rules and know the proper procedures should a problem occur.
Find your perfect career
Would you make a good wellhead pumper? Sokanu's free assessment reveals how compatible you are with a career across 5 dimensions!
Take the free career test
What is the workplace of a Wellhead Pumper like?
Most employment opportunities are in oil and gas extraction and mining support. Oil wells and mines are out in the field and often in remote locations, including offshore drilling rigs. Workers often live in work camps and work rotating shifts, several weeks on and a week break. Extreme weather conditions may be a factor. Skilled workers in this industry can work anywhere in the world.
Jobs
| Title | Company | Location | Info |
| --- | --- | --- | --- |
Collections With This Career
Discover careers that are good for people who like Operation Monitoring. Read More
Find your perfect career
Would you make a good wellhead pumper? Sokanu's free assessment reveals how compatible you are with a career across 5 dimensions!
Take the free career test
Close ×
Have you checked your email?
We emailed you a login link when you signed up, so you likely don't have or need a password. Just click the link to log back in at any time.
If you're still having trouble logging in, try the link below or contact our support team.
Reset Password