What does a Paralegal do?
Would you make a good Paralegal? Take our career test to find out how you match with this and over 800 other careers.
Take Free Career Test
What does a Paralegal do?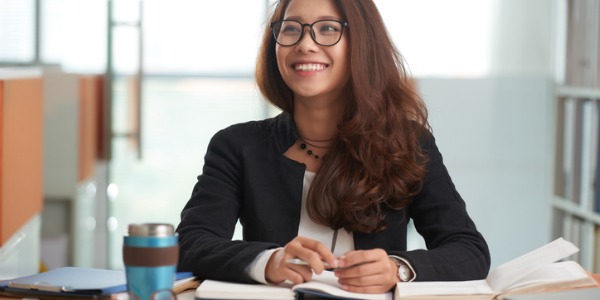 Paralegals may typically do the following:
Help lawyers during trials
Conduct research on laws, legal articles and regulations
Organize and present information
Keep information related to cases in computer databases
Help lawyers by writing reports to prepare for trials
Investigate facts of a case
Draft correspondence and documents, such as mortgages and contracts
Get formal statements and affidavits that could be used as evidence in court
Paralegals help lawyers prepare for trials, hearings and corporate meetings. Depending on the size of the organization or firm, a paralegal's duties could vary, especially in a smaller firm. In addition to reviewing and organizing information, paralegals may prepare written reports that help lawyers determine how to handle their cases. If lawyers decide to file lawsuits on behalf of clients, paralegals may help draft documents and prepare the legal arguments to be filed with the court.
Rather than handling a case from beginning to end, paralegals that are employed in larger organizations work mostly on a particular phase of a case. For example, a litigation paralegal might only review legal material for internal use, conduct research for lawyers, maintain reference files, and collect and organize evidence for hearings. Litigation paralegals often do not attend trials, but might draft settlement agreements or prepare trial documents.
Law firms increasingly use computer software and technology in preparing for trials and for managing documents. Paralegals use computer software to prepare presentations and draft and index documents. In addition, paralegals must be up to date on the latest software used for electronic discovery and familiar with electronic database management. Electronic discovery refers to all electronic materials that are related to a trial, such as data, emails, accounting databases, documents and websites.
Paralegals can assume more responsibilities by specializing in different areas. Some of these areas could be litigation, corporate law, criminal law, personal injury, employee benefits, intellectual property, bankruptcy, immigration, real estate and family law. In addition, experienced paralegals may assume supervisory responsibilities, such as delegating work to other paralegals or overseeing team projects.
Find your perfect career
Would you make a good paralegal? Sokanu's free assessment reveals how compatible you are with a career across 5 dimensions!
Take the free career test
What is the workplace of a Paralegal like?
Paralegals are found in all types of organizations, but most work for a corporation's legal department, government agencies or law firms. They usually work full time, and although most paralegals work year round, some are temporarily employed during busy times of the year. Paralegals who work for law firms may need to work overtime to meet deadlines. Occasionally, paralegals travel to gather information and do other tasks, but for the most part work in offices and law libraries.
According the Bureau of Labor Statistics, "employment of paralegals and legal assistants is projected to grow 17 percent from 2012 to 2022, faster than the average for all occupations. This occupation attracts many applicants, and competition for jobs will be strong. Experienced, formally trained paralegals with strong computer and database management skills should have the best job prospects."
A paralegal is under the guidance of a lawyer, and assists with many legal responsibilities. They help prepare cases and handle many of the administrative tasks involved with pursuing claims, as well as conduct research and execute orders from the lawyer in relation to a case. Paralegal training programs typically offer classes that resemble the first year or two of law school.
A law clerk is a legal professional who works for a lawyer or most likely, a judge, and helps to research and determine legal options in a case. Law clerks have typically completed law school, and get their start as a law clerk. Law students compete intensely for summer law clerk positions because law firms use these temporary worker slots to fill their future attorney job openings.
Also relevant for Judicial Law Clerk
Both terms are used interchangeably. The American Bar Association (ABA) does not distinguish between the paralegal vs. legal assistant positions. The ABA defines both positions as follows: "A legal assistant or paralegal is a person, qualified by education, training or work experience who is employed or retained by a lawyer, law office, corporation, governmental agency or other entity and who performs specifically delegated substantive legal work for which a lawyer is responsible."
If you are serious about becoming a paralegal, it would be wise to specialize in a healthy and growing area of the law. The types of paralegals in greatest demand appear to be those who have specialized in: litigation, corporate, real estate, intellectual property, immigration, and trust and estates. Make yourself irreplaceable by anticipating what the lawyer needs and by being extremely organized. Working as a paralegal is also a great way to discover if you'd like to be a lawyer.
There is an overwhelming amount of documentation and filing that paralegals are responsible for, and being exceptionally organized will make this a lot easier. Paralegals also need to be detail-oriented and efficient. Because duties can vary greatly based on the size of the firm or the supervising attorneys, a paralegal must also be very adaptable to situations and must either enjoy the organizational aspect of the job, or be willing to dedicate themselves enough to become exceptional at it.
Jobs
| Title | Company | Location | Info |
| --- | --- | --- | --- |
Collections With This Career
Discover careers for people who are interested in Law. Read More

Discover careers for people who are interested in Technical Writing. Read More

The most common careers people pursue after attaining a Political Science degree. Read More
Find your perfect career
Would you make a good paralegal? Sokanu's free assessment reveals how compatible you are with a career across 5 dimensions!
Take the free career test
Close ×
Have you checked your email?
We emailed you a login link when you signed up, so you likely don't have or need a password. Just click the link to log back in at any time.
If you're still having trouble logging in, try the link below or contact our support team.
Reset Password