What does a Shoemaker do?
Would you make a good Shoemaker? Take our career test to find out how you match with this and over 800 other careers.
Take Free Career Test
What is a Shoemaker?
A Shoemaker is a specialized type of Leather and Shoe Worker. Also known as: Cordwainer, Cobbler.
A shoemaker is someone who makes, designs and repairs footwear. The original name for a shoemaker was cordwainer. Historically, shoes were made one shoe at a time by hand, but this has somewhat been replaced by the shoe manufacturing industry, producing shoes at a far greater rate than sole shoemakers can. There are still shoemakers, however, that produce quality, detailed and crafted work, but they are becoming rare.
Although there are few remaining shoemakers in the world, the art of shoemaking will likely be around for quite some time, as many parts of the world still rely on shoemakers. Also, some people still like to know that their perfectly fitted shoes were designed and made specifically for them.
What does a Shoemaker do?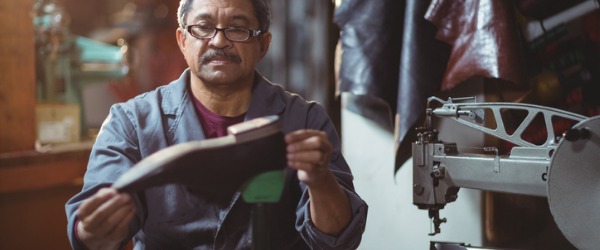 Shoemakers have been designing, making, repairing, and cleaning shoes for hundreds of years. To make a shoe, a shoemaker will usually use a last. A last is shaped like a human foot, and using this tool will ensure a properly sized shoe.
Using knives, shears, scissors, or machine presses, a shoemaker will cut out parts following patterns or outlines. Sewing machines, needles and thread, glue and clamps or various hand tools and rivets are used to either repair, decorate or construct leather products according to people's needs and specifications. Certain desired effects are achieved by using dye, paint or stain. A Shoemaker may engrave or stamp leather to achieve a decorative look, or use stitching to create various shapes.
Part of a shoemaker's duties are the repair and maintenance of shoes. Repairing or applying heels and outsoles by using cement, nails or sewing holes and then shaping the shoe heels with a knife and buffing them for smoothness is all part of a day's work.
Shoemakers need to be business savvy as well, since a big part of a shoemaker's customer service is estimating the costs of making custom shoes or boots or estimating a repair.
Find your perfect career
Would you make a good shoemaker? Sokanu's free assessment reveals how compatible you are with a career across 5 dimensions!
Take the free career test
What is the workplace of a Shoemaker like?
Years ago, it was common for small-scale businesses to live and work in the same house. The house of the shoemaker, or cordwainer, was similar to other artisans. He was usually not wealthy enough to own a house so rented the first floor of a residence where he housed and fed his family and also made and repaired shoes and leather goods.
In modern times, a shoemaker will typically work out of a shop in a community, providing his services to the local people in the area. Shoemakers tend to be self-employed and work in small stores or kiosks. The work often involves standing for many hours at a work bench.
Jobs
| Title | Company | Location | Info |
| --- | --- | --- | --- |
Collections With This Career
Discover careers for people who are interested in Skilled Trades. Read More
Find your perfect career
Would you make a good shoemaker? Sokanu's free assessment reveals how compatible you are with a career across 5 dimensions!
Take the free career test
Close ×
Have you checked your email?
We emailed you a login link when you signed up, so you likely don't have or need a password. Just click the link to log back in at any time.
If you're still having trouble logging in, try the link below or contact our support team.
Reset Password