What does a Doctor do?
Would you make a good Doctor? Take our career test to find out how you match with this and over 800 other careers.
Take Free Career Test
What is a Doctor?
Also known as: Physician, Doctor Of Medicine.
A doctor is someone who maintains or restores human health through the practice of medicine. He or she will diagnose and treat human disease, ailments, injuries, pain or other conditions. There is a specific type of doctor for almost every major system located in the human body.
A doctor can be found in several settings, including public health organizations, teaching facilities, private practices, group practices and hospitals.
What does a Doctor do?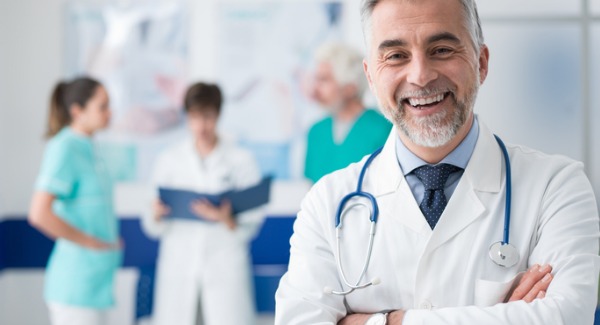 A doctor's schedule will differ depending on the kind of medicine they practice. Some doctors work in an office, others in the hospital, and some in places you may not think of, like laboratories where they develop new medicines and research cures.
A doctor typically works very long hours and has to be available for emergencies. These hours are spent seeing patients in an office-based setting, running tests as well as interpreting them, prescribing medicine or treatments, doing rounds in the hospital, making notes on patient's physical conditions, advising patients on how to stay healthy and talking to them about further treatment. They keep up to date by taking classes and regularly reading books and medical journals.
A doctor that also performs surgeries will usually work two or three full days in the office and then two or three days in the hospital operating room performing surgeries. Doctors will also invest time completing administrative duties such as updating patient records, returning phone calls or dealing with various office issues.
There are a variety of specialties:
Anesthesiologist - Anesthesia Specialist
Cardiologist - Heart Specialist
Cardiothoracic Surgeon - Thorax Surgeon (Heart, Lungs, Esophagus, And Other Organs In The Chest)
Chiropractor - Musculoskeletal And Nervous System Specialist
Colorectal Surgeon - Colon Rectum Anus And Gastric Tract Specialist
Coroner (Medical Examiner) - Cause Of Death Investigation Specialist
Dentist - Dental Specialist
Dermatologist - Skin Specialist
Endocrinologist - Hormone Specialist
Family Practitioner - General Family Physician
Forensic Pathologist - Investigates Sudden and Unexpected Deaths
Gastroenterologist - Gastrointestinal (GI) Tract Specialist
Gynecologist - Childbirth & Gynecological Specialist
Hospitalist - Medical Care of Hospitalized Patients
Immunologist - Allergy Specialist
Internist - Internal Medicine Specialist
Naturopathic Physician - Naturopathic Medicine Specialist
Neurologist - Brain Specialist
Neurosurgeon - Brain Surgeon
Occupational Physician - Workplace Health & Safety
Oncologist - Cancer Specialist
Ophthalmologist - Eye Specialist
Oral and Maxillofacial Surgeon - Dental/Medical Specialist
Orthopaedic Surgeon - Musculoskeletal System Specialist
Orthodontist - Jaws And Teeth Alignment Specialist
Otolaryngologist - Ear, Nose, Throat, and Related Structures of the Head and Neck Specialist
Pathologist - Performs Autopsies And Are Living Organism Abnormality Specialists
Pediatrician - Treats Medical Problems Of Infants, Children And Adolescents
Periodontist - Dental Specialist in Periodontal Disease
Plastic Surgeon - Reconstructive, Aesthetic or Cosmetic Surgeon
Podiatrist - Foot & Ankle Specialist
Prosthodontist - Dental Specialist
Psychiatrist - Mental Illness & Behavioural Disorder Specialist
Pulmonologist - Lung And Respiratory Specialist
Radiologist - X-Ray & Imaging Technology Specialist
Sports Medicine Physician - Sports Injury Specialist
Surgeon - Performs Operations
Urologist - Urinary System Specialist
Veterinarian - Animal Specialist
Zoo Endocrinologist - Animal Hormone Specialist
Find your perfect career
Would you make a good doctor? Sokanu's free assessment reveals how compatible you are with a career across 5 dimensions!
Take the free career test
What is the workplace of a Doctor like?
There are many workplaces available for doctors. Some start working at an existing practice while others open their own practice. Large hospitals are always eager to take on new staff members. It is believed that a lot depends on your personal preferences as the environment in each place will be different (i.e. a government hospital vs. a private hospital).
In general the healthcare industry continues to grow, which is good news for anyone who is interested in a medical career.
A pharmacist has a doctorate degree - a PharmD, or Doctor of Pharmacy. Many professions require a doctorate degree (for example, a professor, a phsychologist, etc). However, they are not "doctors" like your medical doctors are. For example, while in a crowded airplane flight, someone yells out "is there a doctor in the house?" would or should a PharmD stand up and approach in the affirmative? Probably not. Clearly here they are referring to a physician that has completed medical school and can take charge in a medical emergency.
Also relevant for Pharmacist
Jobs
| Title | Company | Location | Info |
| --- | --- | --- | --- |
Collections With This Career
Our career picks exemplify what makes these careers so great: excellent job prospects, a great salary, and satisfying work. Read More

The most common careers people pursue after attaining a Biology degree. Read More

Discover careers for people who are interested in Healthcare service. Read More

These high paying jobs are expected to do extremely well this decade. Be prepared to spend years on extensive and specialized education. Read More
Find your perfect career
Would you make a good doctor? Sokanu's free assessment reveals how compatible you are with a career across 5 dimensions!
Take the free career test
Find your perfect career
Would you make a good doctor? Sokanu's free assessment reveals how compatible you are with a career across 5 dimensions!
Take the Free Career Test